Grand Sirenis Cayo Santa María Hotel

★

★

★

★

★
Playa Las Salinas, Cayo Santa María, Villa Clara, Cuba.. Tel.: (+53 42) 35 0316 /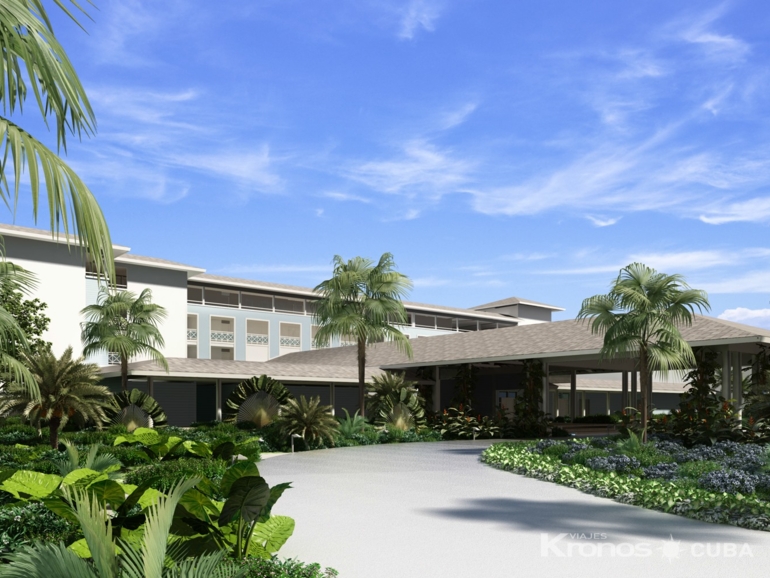 A minimum of 4 night stay is required!
Cayo Santa María is the perfect destination for those who want to visit the best beaches in Cuba. With a careful all-inclusive service, Grand Sirenis Cayo Santa María is presented as a new 5-star hotel complex, suggestive and extraordinary located in a wonderful tourist enclave, just 30 minutes flight from Havana. Las Salinas, its beach, has 2 kilometers of fine white sands and spectacular turquoise waters.
Grand Sirenis Cayo Santa María offers its guests an architecture that combines a Caribbean style with contemporary touches, with fresh, modern and functional lines. Its 633 rooms offer services perfectly adapted to each type of client: 612 double rooms, 18 Junior Suites, 3 Suites. No matter what room you choose during your stay, this beachfront hotel, in Cayo Santa María, will offer you a careful atmosphere and all the comforts you need during your vacation in Cuba.
Delight your palate and savor the best dishes of traditional Cuban cuisine as well as various international proposals; 2 main buffet restaurants, for breakfast, lunch and dinner, 4 themed restaurants, a snack bar and a barbecue, to adapt to the most demanding palates and so you can taste the irresistible flavors in the company of your partner, family or friends from a careful selection of corners of the world, with a very careful selection of menus by our expert team of chefs. Our waiters will prepare you that irresistible cocktail that you like so much, because a total of 7 bars complete our particular gastronomic proposal.
Combine sunny days and beach with 4 large pool areas available throughout the year thanks to the typical tropical climate of this island located near the well-known channel of the Bahamas. Snorkeling and diving lovers are in luck and can be seduced by the beautiful colors of coral reefs. Guests looking for rest and relaxation without leaving the hotel facilities can enjoy sunbathing in a refreshing environment, as we offer our guests two swimming pools for adults, a children's pool and a splash pool.
A sports club, a gym and two tennis courts complement the perfect offer for those who do not want to give up the daily training routine during their vacations. While the older ones practice their favorite sport, the little ones will have a great time; We put at your disposal the mini-club Sirenios where entertainment is more than guaranteed.
Unique and special moments in family, your dream wedding, your honeymoon, your anniversary, that trip with friends who do not want to postpone more ... our large team of professionals is at your disposal to organize every detail of your stay, so that Everything fits your expectations and with a unique service.
What are you waiting for to book your stay at Grand Sirenis Cayo Santa María!
Hours and Conditions
Check in

16:00 Hrs

Check out

12:00 Hrs

Conditions

**A minimum of 3 night stay is required!**
Standard Double Room

612 rooms

(View room facilities)

Air Conditioning
Bathroom's amenities
Amenities in the bathroom
Amplifying mirror
Armchairs
Balcony or Terrace
Balcony table
Bathrobe and slippers
Bathroom with bath/shower
Beach & pool towels
Beach and pool towels
Beach/pool towels in room
Beach towels in the room
Bedroom
Bedside tables
Blackout drapes
Central table
Closet
Coffee and Tea Maker
Coffee tables
Voltage(current):110 V/60 Hz
Electric current:110 V/60 Hz
Voltage(current):220 V/60 Hz
Electric current:220 V/60 Hz
Electronic key card
Emergency info in room's
Hairdryer
Hall
Hot/Cold water(24 hours)
Hot shower rain style
In a quiet area
Internet access $
Iron and ironing board
King-size or twin beds
LCD satellite TV/USB port
Living area
Lounge sofa
Made or ready to sleep beds
Magnifying mirror
Manual temperature control
Minibar
Music TV channel
Pool towels
Private bathroom
Private climate control
Reading chair
Reading lamps
Remote control for TV
Rooms cleaned daily
Safety deposit box $
Seating area
Sheets, blankets and towels
Shower
Sitting area
Sunrise views
Sunset views
Table
Telephone
Umbrellas
Vanity mirror
Wi-Fi Internet connection $

×

Doble Vista Mar

3 rooms

(View room facilities)

Air Conditioning
Bathroom's amenities
Amenities in the bathroom
Amplifying mirror
Armchairs
Balcony or Terrace
Balcony table
Bathrobe and slippers
Bathroom with bath/shower
Beach & pool towels
Beach and pool towels
Beach/pool towels in room
Beach towels in the room
Bedroom
Bedside tables
Blackout drapes
Central table
Closet
Coffee and Tea Maker
Coffee tables
Voltage(current):110 V/60 Hz
Electric current:110 V/60 Hz
Voltage(current):220 V/60 Hz
Electric current:220 V/60 Hz
Electronic key card
Emergency info in room's
Hairdryer
Hall
Hot/Cold water(24 hours)
Hot shower rain style
In a quiet area
Internet access $
Iron and ironing board
King-size or twin beds
LCD satellite TV/USB port
Living area
Lounge sofa
Made or ready to sleep beds
Magnifying mirror
Manual temperature control
Minibar
Music TV channel
Pool towels
Private bathroom
Private climate control
Reading chair
Reading lamps
Remote control for TV
Rooms cleaned daily
Safety deposit box $
Seating area
Sheets, blankets and towels
Shower
Sitting area
Sunrise views
Sunset views
Table
Telephone
Umbrellas
Vanity mirror
Wi-Fi Internet connection $

×

Junior Suite Room

18 rooms

(View room facilities)

Air Conditioning
Bathroom's amenities
Amenities in the bathroom
Amplifying mirror
Armchairs
Balcony or Terrace
Balcony table
Bathrobe and slippers
Bathroom with bath/shower
Beach & pool towels
Beach and pool towels
Beach/pool towels in room
Beach towels in the room
Bedroom
Bedside tables
Blackout drapes
Central table
Closet
Coffee and Tea Maker
Coffee tables
Voltage(current):110 V/60 Hz
Electric current:110 V/60 Hz
Voltage(current):220 V/60 Hz
Electric current:220 V/60 Hz
Electronic key card
Emergency info in room's
Hairdryer
Hall
Hot/Cold water(24 hours)
Hot shower rain style
In a quiet area
Internet access $
Iron and ironing board
King-size or twin beds
LCD satellite TV/USB port
Living area
Lounge sofa
Made or ready to sleep beds
Magnifying mirror
Manual temperature control
Minibar
Music TV channel
Pool towels
Private bathroom
Private climate control
Reading chair
Reading lamps
Remote control for TV
Rooms cleaned daily
Safety deposit box $
Seating area
Sheets, blankets and towels
Shower
Sitting area
Sunrise views
Sunset views
Table
Telephone
Umbrellas
Vanity mirror
Wi-Fi Internet connection $

×

Junior Suite Vista Mar

75 m2

1 room

(View room facilities)

Air Conditioning
Bathroom's amenities
Amenities in the bathroom
Amplifying mirror
Armchairs
Balcony or Terrace
Balcony table
Bathrobe and slippers
Bathroom with bath/shower
Beach & pool towels
Beach and pool towels
Beach/pool towels in room
Beach towels in the room
Bedroom
Bedside tables
Blackout drapes
Central table
Closet
Coffee and Tea Maker
Coffee tables
Voltage(current):110 V/60 Hz
Electric current:110 V/60 Hz
Voltage(current):220 V/60 Hz
Electric current:220 V/60 Hz
Electronic key card
Emergency info in room's
Hairdryer
Hall
Hot/Cold water(24 hours)
Hot shower rain style
In a quiet area
Internet access $
Iron and ironing board
King-size or twin beds
LCD satellite TV/USB port
Living area
Lounge sofa
Made or ready to sleep beds
Magnifying mirror
Manual temperature control
Minibar
Music TV channel
Pool towels
Private bathroom
Private climate control
Reading chair
Reading lamps
Remote control for TV
Rooms cleaned daily
Safety deposit box $
Seating area
Sheets, blankets and towels
Shower
Sitting area
Sunrise views
Sunset views
Table
Telephone
Umbrellas
Vanity mirror
Wi-Fi Internet connection $

×

---

Dining conditions

A variety of atmospheres and culinary options.
The menus and times of the restaurants and bars may be subject to change depending on the season and hotel occupancy.
Non-smoking areas.
Reservations and dress code (formal) for dinner in the specialist restaurants.
Limit of three (3) reservations per week ( 7 night stay).
Wines at lunch and dinner.
3 meals daily and 24 hours snacks and drinks service.
Unlimited alcoholic and non-alcoholic beverages.
Diet and vegetarian dishes (on request).
Live entertainment at some restaurants.

Services and Facilities

($) Services with additional charge