Grand Aston Cayo Paredón Beach Resort Hotel

★

★

★

★

★
Cayo Paredon, Jardines del Rey, Camagüey, Cuba. Zip Code: 67 210.. Tel.: +53 33 320200 /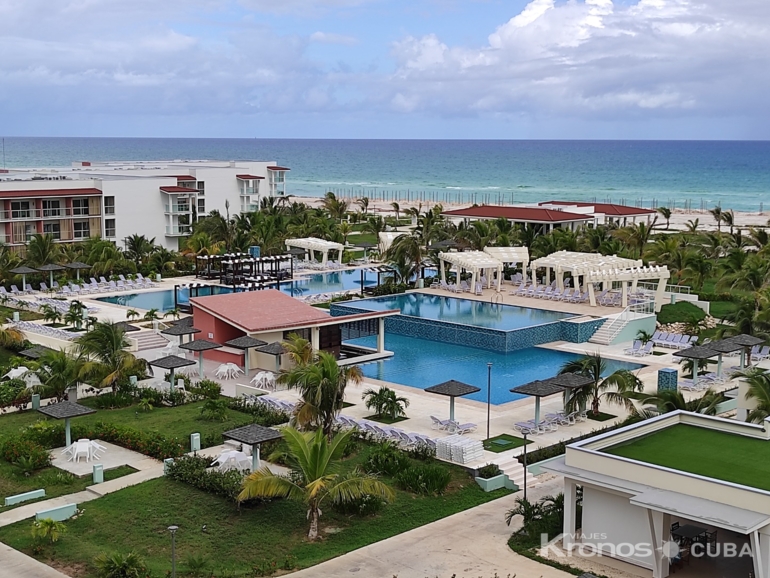 Minimum of 3 of stay!
Cayo Paredón Grande, located near the keys Romano, Cayo Coco and Cayo Guillermo, owes it's name to the high cliffs that border it's northern end, has in it's 8.7 square kilometers beautiful pristine beaches of impressive clear and transparent blue tones, abundant vegetation of red mangroves, hicacos and an impressive fauna composed of more than 385 species, Among them, 28 endemic species (unique to this site) in which diverse birds stand out, one of the most notable is the pink flamingo and a great wealth of marine animals in it's waters, in addition to the historic Diego Velázquez lighthouse, with a height of 40 meters and built in 1857, which still watches over navigation in the Old Channel of the Bahamas. Cayo Paredón Grande has 5 km of virgin beach to the north-east and also has Playa Los Pinos, Los Lirios and Playa del Norte. The southern and western parts of Cayo Paredon Grande are full of lagoons and mangroves, making it an ideal place for fly fishing and bird watching. To get to Cayo Paredón Grande, there is a 17-kilometer-long road over the sea that connects it to Cayo Coco.
GRAND ASTON Cayo Paredón Beach Resort Hotel is set on a picturesque 2 km long pristine white sand beach in Cayo Paredón Grande, immersed amid lush gardens and only steps away from azure waters. GRAND ASTON Cayo Paredón Beach Resort is a beach front project only 21 minutes away from the closest international airport, Jardines del Rey. Consist of a main building in a horseshoe shape and several compact bungalows, distributed around the swimming pools and open towards the sea. It offers a "Contemporary Caribbean" style, as well as allegories to the traditional architecture of the province with a clear Andalusian influence, recreated in large facades full of vegetation and tiled roofs.
It's elegant and comfortable 635 including Family and Adults (Club) sections ranging from Deluxe, Deluxe pool & ocean views, Jr. Suites and ASTON Suites that will make your stay simply unbeatable. Each one is equipped with a flat-screen TV, minibar, tea and coffee maker, in-room safe and a desk. Situated just steps from the shore, each modern room comes with a private balcony or terrace. Divided into two sections, the main building section and bungalows for families and the Club area for adults only, Both sections are ideally located with easy access to restaurants, entertainment, sports facilities and the beach. In total 5 pools around the hotel. Two in the main and family sections, one in the kid's club, splash and Club section pool. Besides this, the hotels count with 5 showers in main and family pools, four in the accesses to the beach and one in children and splash pools.
THE CLUB: a quiet adults-only experience. The Adults Only Club section is designed for the most exclusive service you can get. Its own reception, butler service, room service 24 hours, lobster and cava included and its private restaurant and bar by pool.
The resort is a heaven for food connoisseurs as it features a total of 15 food and beverage outlets. Ávila, Buffet Interactivo, specialized in a "Show Cooking" style of preparation, with a great sensory level fully inspired by fresh and personalized food, finished right in front of the guest. Feng Shui, Cocina Sensorial, aims to stimulate all of the guest's senses, from its Pan-Asian cuisine (Japanese, Thai, Chinese, Vietnamese, Indonesian) as the soul of the place, intwining the right mind and elevating the experience through each one of them. Selena, Tex-Mex Cuisine, will present in an extraordinary way, the influence given by the state of Texas to the Mexican gastronomy and will take us into an oasis of its distinctive flavors. Appassionato, Cucina Italiana, The gastronomic experience will begin with a large table of antipasti (parmesan wheel, bruschettas, cold cuts, seafood, pickled vegetables, etc.), complemented by a menu that will offer a selection of fresh fish, braised meats and traditional handmade "Appassionato pasta, distinctive of the coastal regions. Fogo do Faro, Rodízio Brasileiro, interactive Brazilian Steak House experience. Café Americana, Comida & Amigos, it merges ideas from the famous North American chain "California Pizza", with a food preparation and presentation style similar to the urban trend of the "Food Trucks", all combined with touches of the traditional items found in the old "American Diners" of the 50's, open 24 hours. Natura, Vivir Mejor snack bar, nestled in the main pool, for healthy lifestyles, full of vegan and vegetarian options, also suitable for guests with dietary restrictions such as celiacs, as well as to people allergic or intolerant to certain types of foods. Allure, Sol y Playa, located right in front of the beach, will include an interesting selection of sushi, ceviches, charcoal-grilled skewers, fish and seafood fritters, creative tacos, Cuban sandwiches and other dishes to share under a clear concept of "beach food". Toro, Tapas & Vinos, will not be part of the All-inclusive offer, showcasing a large variety of creative and trendy Sangrias, as well as a good selection of Spanish wines, served with a wide assortment of high-end tapas with Appellation of Origin.
A 24 hours Corales, Lobby Bar a specialty in martinis and creative cocktails inspired by the sea, will add distinction to the place, with "Aston Blue" being its signature cocktail. La Famiglia, Snack Bar, Ready to cover all preferences, its casual and fun gastronomic offer. The Club, B&R, will offer "Room Service" 24 hours, in addition to a variety of hours d'oeuvres stationed at the lounge area, changing according to the time of the day. This outlet will also provide food service (finger food style) to the pool area. Saoco, Beah Bar, specialty will be frozen cocktails, being the bar's signature cocktail our "frappé" version of the Saoco, adding pieces of coconut to the preparation. Profundo, Pool Bar, a traditional pool bar, with a dry and wet area, space located in the family area.
GRAND ASTON Cayo Paredón Beach Resort Hotel will also have it's own Palapa for wedding services on the beach as well as two divisible conference rooms with a coffee break area. Explore and experience more recreational facilities that include several swimming pools, a beauty salon, a jacuzzi, a gym, on-site water sports center, four tennis courts, and a children's play area, giving no reason to ever leave this exotic coastal paradise.
Hours and Conditions
Check in

16:00 Hrs

Check out

12:00 Hrs
DELUXE GARDEN VIEW Room

37 m2

286 rooms

(View room facilities)

DELUXE SEA VIEW Room

37 m2

285 rooms

(View room facilities)

Junior Suite Sea View

43 m2

12 rooms

(View room facilities)

CLUB DELUXE OCEAN&POOL VIEW Room (THE CLUB)

37 m2

2 rooms

(View room facilities)

CLUB JUNIOR SUITE Room (THE CLUB)

43 m2

48 rooms

(View room facilities)

ASTON SUITE Room (THE CLUB)

76 m2

2 rooms

(View room facilities)

CLUB DELUXE GARDEN VIEW Room (THE CLUB)

(View room facilities)

CLUB JUNIOR SUITE OCEAN VIEW (THE CLUB)

(View room facilities)

ÁVILA BUFFET Buffet restaurant

International cuisine

Daily. 7-10:30/ 12:30-15:00/ 18:30-22:30

SAOCO BEACH BAR Beach bar

In the beach area

Daily. 10:00 - 18:00

THE CLUB B & R Room service

International cuisine

Daily. 24 Hours

LA FAMILIA SNACK BAR Snack bar

International cuisine

In the pool area

Daily. 10:00 - 18:00

CORALES LOBBY BAR Lobby bar

Beverages, Tea and cafes service

In the lobby area

Daily. 24 Hours

TORO, TAPAS & VINO Bistro restaurant

Tapas cuisine

Daily. 12:00-22:30

PROFUNDO POOL BAR Pool bar

Beverages and snacks

In the pool area

Daily. 10:00 - 18:00

FENG SHUI Restaurant

Asian cuisine

Daily. 18:30-22:30

SELENA Restaurant

Western Tex-Mex cuisine

Daily. 18:30- 22:30

APPASIONATE, ITALIAN FOOD Restaurant

Italian cuisine

Daily. 18:30-22:30

FOGO DO FARO Restaurant

Barbecued cuisine

Daily. 18:30- 22:30

CAFE AMERICANA, COMIDA Y AMIGOS Cafeteria

Light Meal and Snacks

Daily. 24 Hours

NATURA VIVIR MEJOR Pool bar

Vegetarian cuisine

In the pool area

Daily. 10:00 - 18:00

ALLURE Beach snack bar

Seafood cuisine

In the beach area

Daily. 10:00 - 18:00

---

Dining conditions

A variety of atmospheres and culinary options.
The menus and times of the restaurants and bars may be subject to change depending on the season and hotel occupancy.
Non-smoking areas.
Reservations and dress code (formal) for dinner in the specialist restaurants.
Wines at lunch and dinner.
3 meals daily and 24 hours snacks and drinks service.
Unlimited alcoholic and non-alcoholic beverages.
Diet and vegetarian dishes (on request).
Live entertainment at some restaurants.

Services and Facilities

($) Services with additional charge