Islazul Santo Domingo Villa

★

★

★

★

★
Carretera La Plata km 16, Santo Domingo, Granma, Cuba. Postal Code: 88 000. Tel.: (+53 23) 56 5568 / (+53 23) 56 5834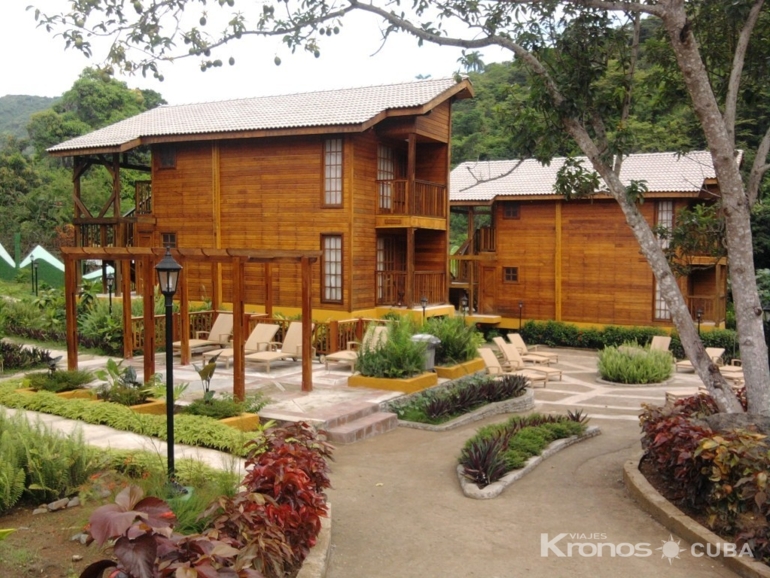 Villa Santo Domingo is girded by the Sierra Maestra Mountains, where you'll find excellent trails for observing the flora and fauna typical of the region. Explore along the banks of the Yara River or climb Turquino Peak, the highest mountain in the country(1974 meters above sea level). You'll get a good rest in its comfortable cabanas, which are just the thing for this unusual kind of back-to-Nature vacation.
Always accompanied by extraordinary and very experienced local guides customers lovers of nature will enjoy these spectacular tours, and may include other paths such as the Pozo de Lola, Lomo del Espejo, Santo Domingo-Marea del Portillo, Casa Piedra and Santo Domingo-Pico Turquino trails, the Lucas Castillo museum or an excursion to the General Command Headquarters of La Plata.
Hours and Conditions
Check in

16:00 Hrs

Check out

12:00 Hrs

Conditions

CANCELLATION POLICY The hotel reserves the right to apply a cancellation or no-show penalty in case of: - Cancellations made less than 5 days in advance, where 50% of the total stay per person will be discounted from the reserved meal plan. - No show, where 100% of the price of one (1) night per room in the reserved food plan and 50% of the rest of the stay in the reserved food plan will be discounted.
Standard Room

19 rooms

(View room facilities)

2 Armchairs
2 Personal beds
Air Conditioning
Bathroom's amenities
Bathroom with shower
Bedroom
Bedside tables
Coffee tables
Dressing table
Dressing table chair
Voltage(current):110 V/60 Hz
Voltage(current):220 V/60 Hz
Furnishings in the Terrace
Landscape views
Living area
Luggage rack
Minibar $
Reading lamps
Remote control for TV
Rooms cleaned daily
Safety deposit box $
Satellite TV
Telephone
Terrace

×

Bungalow Room

(View room facilities)

Air Conditioning
Bathroom's amenities
Bathroom with shower
Bedroom
Bedroom/lounge
Bedside tables
Blackout drapes
Voltage(current):110 V/60 Hz
Electric current:110 V/60 Hz
Voltage(current):220 V/60 Hz
Electric current:220 V/60 Hz
Furnishings in the Terrace
Garden views
Hot/Cold water(24 hours)
In a quiet area
King-size or twin beds
Landscape views
Manual temperature control
One bedroom
Patio view
Private bathroom
Reading lamps
Remote control for TV
Rooms cleaned daily
Seating area
Sheets, blankets and towels
Sitting area
Sunrise views
Sunset views
Terrace
TV

×

---

Dining conditions

The menus and times of the restaurants and bars may be subject to change depending on the season and hotel occupancy.
Diet and vegetarian dishes (on request).

Services and Facilities

($) Services with additional charge