Gran Bristol Kempinski Hotel

★

★

★

★

★
Calle Teniente Rey, e/ Zulueta y Monserrate, Habana Vieja, La Habana, Cuba. Zip Code: 10 100.. Tel.: (+53 7) 823 2671 / (+ 53 7) 823 2617 /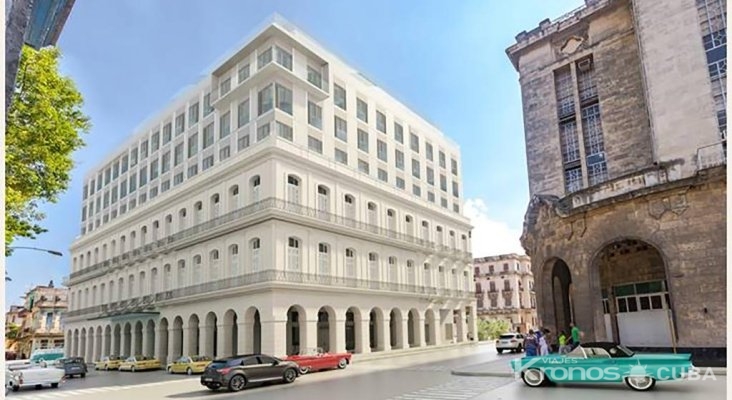 The Gran Hotel Bristol Kempinski is located just one block from the Capitol and two blocks from the Gran Hotel Manzana Kempinski. This new jewel of Havana's hotel industry is located in the UNESCO World Heritage site in the very heart of Havana's historic centre. The 100+ year old Gran Hotel Bristol building is restored but retains the social and artistic essence of the era when people used to spend time dancing, drinking and enjoying music from the 1930s to the 1950s. A symbol of Havana's former bohemian life, the hotel offered unusual amenities for its time, such as private bathrooms and telephones in every room.
While the original facade of the building has been preserved, the interior is presented in a contemporary design combined with local influences. There are 162 elegant rooms and suites including a 135-square-meter presidential suite, five restaurants and bars, two meeting rooms and a gymnasium focused on the modern traveler in a privileged location. One of the highlights of this new property is undoubtedly its terrace on the ninth floor with an infinity pool, from where you can see a complete panorama of the historical sites of the city, especially the Capitol, the Spanish fortress, the port and Old Havana.
Hours and Conditions
Check in

16:00 Hrs

Check out

12:00 Hrs

Conditions

.
Junior Suite Room

47 m2

9 rooms

(View room facilities)

1 Two-seater sofa
2 Armchairs
2 Balconies
2 Telephones in the room
Air Conditioning
AM / FM Clock Radio
Bathroom's amenities
Amplifying mirror
Baby cot allowed
Bathroom with bathtub and shower
Bedroom
Bedside tables
Blackout drapes
Breakfast table
Ceiling Fan
City views
Closet
Coffee tables
Digital safety deposit box
Voltage(current):110 V/60 Hz
Voltage(current):220 V/60 Hz
Facilities for disabled guests
Flat-screen TV
Free Wi-Fi
Hairdryer
Hot/Cold water(24 hours)
Iron and ironing board
King-size or twin beds
Laptop-size safe
Living area
Luggage rack
Bathroom's luxury amenities
Magnifying mirror
Minibar $
Music TV channel
Non-smoking rooms
Private bathroom
Private climate control
Reading lamps
Remote control for TV
Rooms cleaned daily
Safety deposit box
Satellite TV
Separate toilet
Sheets, blankets and towels
Telephone
TV-minibar table
Umbrellas
Vanity mirror

×

La Habana Gran Deluxe Room

39 m2

18 rooms

(View room facilities)

1 Two-seater sofa
2 Armchairs
2 Telephones in the room
Air Conditioning
AM / FM Clock Radio
Bathroom's amenities
Amplifying mirror
Baby cot allowed
Bathroom with bathtub and shower
Bedroom
Bedside tables
Ceiling Fan
City views
Closet
Desk/Working area
Voltage(current):110 V/60 Hz
Voltage(current):220 V/60 Hz
Facilities for disabled guests
Flat-screen TV
Free Wi-Fi
Hairdryer
Hot/Cold water(24 hours)
Iron and ironing board
King-size or twin beds
Laptop-size safe
Luggage rack
Bathroom's luxury amenities
Magnifying mirror
Minibar $
Music TV channel
Private bathroom
Private climate control
Reading lamps
Remote control for TV
Safety deposit box
Satellite TV
Sheets, blankets and towels
Telephone
TV-minibar table
Umbrellas
Vanity mirror

×

DELUXE Suite Room

68 m2

5 rooms

(View room facilities)

1 Two-seater sofa
2 Armchairs
2 Balconies
2 LCD TVs
2 Seater sofa
2 Telephones in the room
Air Conditioning
AM / FM Clock Radio
Bathroom's amenities
Amplifying mirror
Bathroom with bathtub and shower
Bedroom
Bedside tables
Ceiling Fan
City views
Closet
Coffee and Tea Maker
Coffee tables
Desk/Working area
Digital safety deposit box
Dressing closet
Dressing table chair
Voltage(current):110 V/60 Hz
Voltage(current):220 V/60 Hz
Facilities for disabled guests
Flat-screen TV
Free Wi-Fi
Guest's bathroom
Hairdryer
Hot/Cold water(24 hours)
Iron and ironing board
King-size or twin beds
Living area
Lounge-bedroom
Luggage rack
Bathroom's luxury amenities
Magnifying mirror
Minibar $
Music TV channel
Newspapers
Private bathroom
Private climate control
Reading lamps
Remote control for TV
Rooms cleaned daily
Safety deposit box
Satellite TV
Separate toilet
Sheets, blankets and towels
Superior category bathroom
TV-minibar table
Umbrellas
Vanity mirror

×

Suite Presidencial Capitolio Room

135 m2

1 room

(View room facilities)

1 Two-seater sofa
2 Armchairs
2 Balconies
2 LCD TVs
2 Seater sofa
2 Telephones in the room
Room's service 24 hrs
Air Conditioning
AM / FM Clock Radio
Bathroom's amenities
Bathroom's scales
Bathroom with bathtub and shower
Bedroom
Breakfast area
Ceiling Fan
Central table
City views
Closet
Concierge services
Desk/Working area
Dining room with kitchenette
Direct-dial telephone in bedroom & bathroom
Dressing closet
Dressing table chair
Voltage(current):110 V/60 Hz
Voltage(current):220 V/60 Hz
Express check-in
Facilities for disabled guests
Free Wi-Fi
Guest's bathroom
Hairdryer
Hot/Cold water(24 hours)
Iron and ironing board
King-size or twin beds
Living area
Lounge-bedroom
Luggage rack
Bathroom's luxury amenities
Magnifying mirror
Music TV channel
Newspapers
Private check-out
Reading lamps
Remote control for TV
Safety deposit box
Satellite TV
Sheets, blankets and towels
Superior category bathroom
TV-minibar table
Umbrellas
Vanity mirror
Walk-in closet
Wi-Fi Internet connection $

×

La Habana Classic Room

32 m2

64 rooms

(View room facilities)

2 Armchairs
Air Conditioning
AM / FM Clock Radio
Bathroom's amenities
Baby cot allowed
Balcony
Bathroom with bathtub and shower
Bedroom
Bedside tables
Blackout drapes
Ceiling Fan
City views
Closet
Coffee and Tea Maker
Coffee tables
Desk/Working area
Digital safety deposit box
Dressing table chair
Voltage(current):110 V/60 Hz
Voltage(current):220 V/60 Hz
Facilities for disabled guests
Flat-screen TV
Free Wi-Fi
Hairdryer
Hot/Cold water(24 hours)
Iron and ironing board
King-size or twin beds
Luggage rack
Bathroom's luxury amenities
Magnifying mirror
Minibar $
Non-smoking rooms
Patio view
Reading lamps
Remote control for TV
Rooms cleaned daily
Safety deposit box
Satellite TV
Separate toilet
Sheets, blankets and towels
Telephone
TV-minibar table
Umbrellas
Vanity mirror

×

La Habana Deluxe Room

36 m2

16 rooms

(View room facilities)

2 Armchairs
Air Conditioning
AM / FM Clock Radio
Bathroom's amenities
Amplifying mirror
Balcony
Bathroom with bathtub and shower
Bedroom
Bedside tables
Blackout drapes
Ceiling Fan
Closet
Coffee and Tea Maker
Digital safety deposit box
Dressing table chair
Voltage(current):110 V/60 Hz
Voltage(current):220 V/60 Hz
Facilities for disabled guests
Free Wi-Fi
Hairdryer
Hot/Cold water(24 hours)
Iron and ironing board
King-size or twin beds
Laptop-size safe
Luggage rack
Bathroom's luxury amenities
Magnifying mirror
Minibar $
Non-smoking rooms
Patio view
Private climate control
Reading lamps
Remote control for TV
Rooms cleaned daily
Safety deposit box
Satellite TV
Separate toilet
Sheets, blankets and towels
Telephone
TV-minibar table
Umbrellas
Vanity mirror
Variety of coffee & tea in room

×

Classic Patio Room

32 m2

49 rooms

(View room facilities)

2 Armchairs
2 Twin beds
Air Conditioning
Bathroom's amenities
Amplifying mirror
Bathroom with bathtub and shower
Bedroom
Bedside tables
Blackout drapes
Ceiling Fan
Closet
Coffee and Tea Maker
Desk/Working area
Digital safety deposit box
Dressing table
Dressing table chair
Voltage(current):110 V/60 Hz
Voltage(current):220 V/60 Hz
Flat-screen TV
Free Wi-Fi
Hairdryer
Hot/Cold water(24 hours)
Inner Courtyard View
Iron and ironing board
King-size or twin beds
Laptop-size safe
Magnifying mirror
Minibar $
Music TV channel
Non-smoking rooms
Room's service
Rooms cleaned daily
Separate toilet
Telephone
Toilet
Vanity mirror

×

---

Dining conditions

A variety of atmospheres and culinary options.
The menus and times of the restaurants and bars may be subject to change depending on the season and hotel occupancy.
Non-smoking areas.
Dress code (formal) in all restaurants.
The buffet service does not include beverages in the price.
Premium Brand Drinks.
24-hour room service ($).
Diet and vegetarian dishes (on request).
Live entertainment at some restaurants.

Services and Facilities

($) Services with additional charge