Mystique La Popa Trinidad Hotel - Adults Only Over 18 Years Old

★

★

★

★

★
Calle Enrique Hart S/N, e/ Piro Guinart y Simón Bolívar, Cerro La Vigia, Trinidad, Sancti Spíritus, Cuba. Zip Code: 62 600.. Tel.: (+53 41) 90 4000. /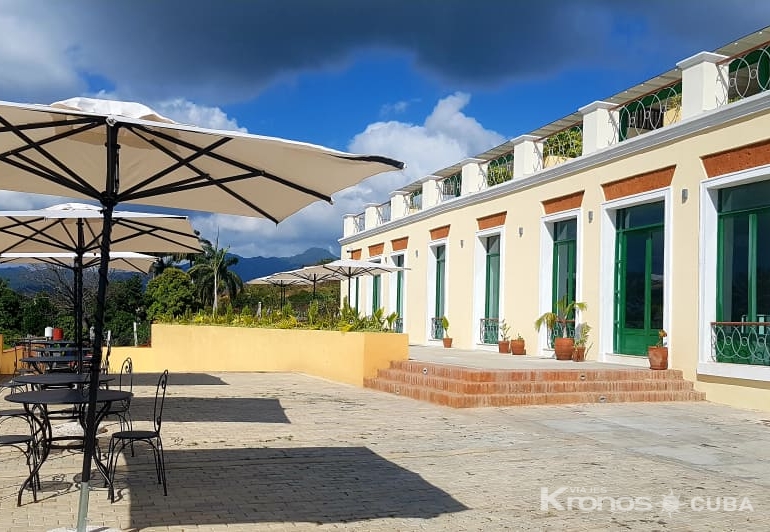 The Mystique La Popa Trinidad Hotel enjoys a privileged location, just five minutes walk from the heart of the old town, with its views of the Caribbean and its beaches. Next to the hotel is the "Hermitage of Our Lady of the Candelaria de la Popa del Barco", which is the oldest church in Cuba. Trinidad was founded by the conquerors, and the design of the property reflects the history and heritage of the city, evoking the style of the haciendas, in accordance with this place, declared a World Heritage Site by UNESCO. An almost monastic serenity and style will emanate from this hotel, which will feature noble wood, terracotta tiles, waxed floors and wooden furniture as design elements. In contrast, the spacious and sunny balconies, and the views offered by the hotel from the rooftops until reaching the sea, will invite the guest to venture to discover this historical region.
On top of Cerro de la Popa summit, guarding the Village of Santísima Trinidad that rest at its feet, is located the Mystique LA POPA Trinidad Hotel. Standing on the ruins of the ancient military hospital and colonial village Headquarters, this adults-only hotel ideally interests couples, businessmen, events, incentive groups and circuits willing to know our culture and enjoy the historical downtown, declared World Heritage, only 400 meters away. The hotel is a 5-minute walk from the heart of this ancient city, which offers a difficult atmosphere and charm to describe. The panoramic view of the Caribbean and its beaches offered by the hotel is incomparable. The La Popa Trinidad will consist of 52 suites, with a restaurant, bar and swimming pool.
Hours and Conditions
Check in

16:00 Hrs

Check out

12:00 Hrs

Conditions

Cancellations policy - Cancellations more than 10 days before the arrival day, no penalty will be applied. - Cancellations made with less than 10 days and up to 72 hours before the arrival day, a penalty corresponding to the price of one night in the reserved plan will be applied. - "No Shows" Will be applied a penalty corresponding to the amount of the first night of your intended stay.
DELUXE Standard Room

48 rooms

(View room facilities)

1 Two-seater sofa
2 Armchairs
2-seater sofa
Air Conditioning
AM / FM Clock Radio
Amenities in the bathroom
Balcony or Terrace
Bathroom with bathtub and shower
Bedroom
Bedroom/lounge
Bedside tables
Blackout drapes
Breakfast table
Ceiling Fan
City views
Closet
Coffee and Tea Maker
Dressing table
Dressing table chair
Electric current:110 V/60 Hz
Electric current:220 V/60 Hz
Facilities for handicapped
Furnishings in the Balcony
Garden views
Hairdryer
Hot/Cold water(24 hours)
Iron and ironing board
King Size Bed
LCD satellite TV/USB port
Luggage rack
Magnifying mirror
Manual temperature control
Minibar $
Reading lamps
Remote control for TV
Rooms cleaned daily
Safety deposit box
Sheets, blankets and towels
Split air conditioning
Telephone
TV-minibar table
Umbrellas
Vanity mirror

×

DELUXE Suite Room

75 m2

4 rooms

(View room facilities)

2 Armchairs
2-seater sofa
Air Conditioning
AM / FM Clock Radio
Amenities in the bathroom
Amplifying mirror
Balcony
Bathrobe and slippers
Bathroom scales
Bathroom with bath/shower
Bedroom
Bedside tables
Blackout drapes
Breakfast table
Ceiling Fan
Closet
Coffee and Tea Maker
Dressing table
Dressing table chair
Electric current:110 V/60 Hz
Electric current:220 V/60 Hz
Furnishings in the Balcony
Garden views
Hairdryer
Hall
Hot/Cold water(24 hours)
Iron and ironing board
King Size Bed
Landscape views
LCD satellite TV/USB port
Living room
Luggage rack
Manual temperature control
Minibar
Non-smoking rooms
Reading lamps
Remote control for TV
Rooms cleaned daily
Safety deposit box
Sheets, blankets and towels
Superior category bathroom
TV-minibar table
Umbrellas
Vanity mirror
Wi-Fi in hotel room's ($)

×

DELUXE SUPERIOR Room

(View room facilities)

DELUXE Junior Suite Room

(View room facilities)

---

Dining conditions

A variety of atmospheres and culinary options.
The menus and times of the restaurants and bars may be subject to change depending on the season and hotel occupancy.
Diet and vegetarian dishes (on request).
Live entertainment at some restaurants.

Services and Facilities

($) Services with additional charge