Iberostar Selection Varadero Hotel

★

★

★

★

★
Ctra. Las Morlas, Km 17 ½,Península Hicacos,Varadero,Matanzas,Cuba.Postal Code: 42200. Tel.: (+53 45) 66 9999 / (+53 45) 66 8842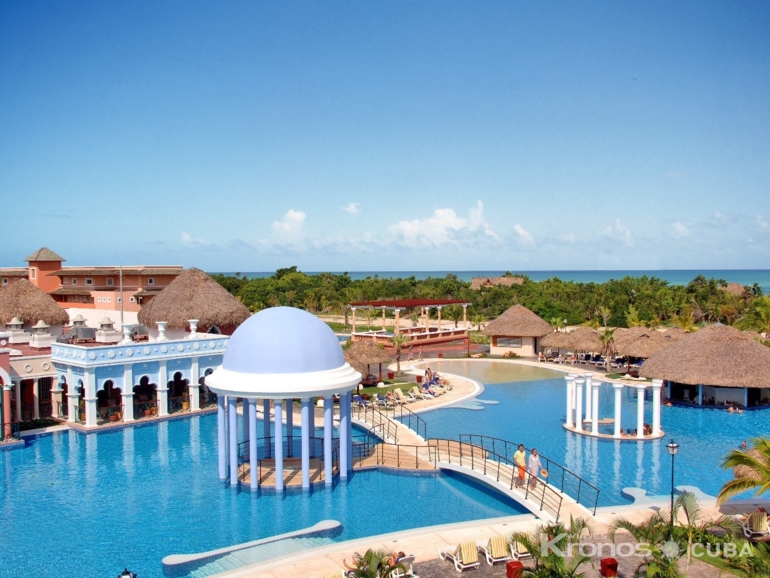 A minimum of 5 night stay is required!
La Palapa closed for repairs until November 25th 2023
This modern beachfront hotel complex has a privileged location, surrounded by a natural environment of tropical vegetation. It is just 31 miles from Varadero's International Airport and 11 miles from downtown. With glamour, style and good taste is, unarguably, a great holiday resort.
Hours and Conditions
Check in

14:00 Hrs

Check out

12:00 Hrs
Doble Room

(View room facilities)

SUPERIOR Junior Suite Room

48 m2 (View room facilities)

$ 50.00 cuc SPA bonus per room
1 Two-seater sofa
Air Conditioning
AM / FM Clock Radio
Aroma-therapy in room
Balcony or Terrace
Balcony table
Bathrobe and slippers
Bathroom's scales
Bathroom with bath/shower
Beach/pool towels in room
Bedroom
Bedside tables
Ceiling Fan
Coffee and Tea Maker
Coffee tables
Direct phone line
Dressing table
Dressing table chair
Easy chairs
Voltage(current):220 V/60 Hz
Extra bed (on request)
Floral detail in room
Free SPA wet circuits
Furnishings in the Balcony
Furnishings in the Terrace
Garden views
Hairdryer
Internet access $
Iron and ironing board
King-size or twin beds
Locate close to the SPA
Luggage rack
Magnifying mirror
Minibar (restocked daily)
Nightly turndown service
Reading lamps
Remote control for TV
Room's service
Rooms cleaned daily
Safety deposit box
Satellite LCD TV
Sea views
Sofa-lounge
SPA gift set
TV-minibar table
Umbrellas
VIP amenities (daily)
Welcome details

×

Doble Garden View

65 m2

1 room

(View room facilities)

Familiar 2 Rooms

65 m2

1 room

(View room facilities)

Junior Suite Room

48 m2

60 rooms

(View room facilities)

1 Two-seater sofa
20 % discount on SPA services
Air Conditioning
AM / FM Clock Radio
Balcony or Terrace
Balcony table
Bathrobe and slippers
Bathroom's scales
Bathroom with bath/shower
Bedroom
Bedside tables
Ceiling Fan
Coffee and Tea Maker
Coffee tables
Crib (on request)
Direct phone line
Dressing table
Dressing table chair
Easy chairs
Voltage(current):220 V/60 Hz
Extra bed (on request)
Facilities for disabled guests
Furnishings in the Balcony
Furnishings in the Terrace
Garden views
Hairdryer
Internet access $
Iron and ironing board
King-size or twin beds
Luggage rack
Magnifying mirror
Minibar (restocked daily)
Nightly turndown service
Non-smoking rooms
Reading lamps
Remote control for TV
Room's service
Rooms cleaned daily
Safety deposit box
Satellite LCD TV
Sea views
Sofa-lounge
TV-minibar table
VIP amenities (daily)

×

PRESIDENTIAL Suite Room

218 m2

2 rooms

(View room facilities)

1 Two-seater sofa
2 Armchairs
2 Bathrooms
2 Bedrooms
2 Satellite LCD TV's
2 Seater sofa
4 Chairs
50% discount on other Spa services
Air Conditioning
AM / FM Clock Radio
Aroma-therapy in room
Balcony table
Bathrobe and slippers
Bathroom's scales
Bathroom with bath/shower
Beach & pool towels
Bedside tables
CD / USB Player
Ceiling Fan
Central table
Coffee and Tea Maker
Coffee tables
Connecting rooms
Crib (on request)
Direct phone line
Dressing room
Dressing table
Dressing table chair
DVD Player
Early check-in
Easy chairs
Voltage(current):220 V/60 Hz
Extra bed (on request)
Floral detail in room
Free Internet service(1 hrs per day)
Free laundry service(once a week)
Free Romantic dinner in room
Free SPA wet circuits
Free welcome massage
Furnishings in the Terrace
Garden views
Guest's bathroom
Hairdryer
Iron and ironing board
Jacuzzi on the terrace
King Size Bed
Kitchenette
Large terrace
Late check-out
Living room
Lounge
Lounge sofa
Luggage rack
Bathroom's luxury amenities
Magnifying mirror
Minibar with premium drinks
Minibar (restocked daily)
Nightly turndown service
Outdoor shower
Private check-out
Reading lamps
Remote control for TV
Reservations in à la carte restaurants
Romantic décor
Room's service
Rooms cleaned daily
Safety deposit box
Sea views
TV-minibar table
Umbrellas
VIP amenities (daily)
Welcome details
Welcome with refreshing wipes

×

Family Room

40 m2

324 rooms

(View room facilities)

Air Conditioning
AM / FM Clock Radio
Bathroom's amenities
Balcony or Terrace
Bathroom's scales
Bathroom with bath/shower
Bedroom
Bedside tables
Children's bathrobe
Children's welcome details
Coffee and Tea Maker
Direct phone line
Dressing table
Dressing table chair
Voltage(current):220 V/60 Hz
Extra bed (on request)
Free baby seating until 22:00 hrs(once per stay)
Furnishings in the Balcony
Furnishings in the Terrace
Garden views
Hairdryer
Juices & sweets
King-size or twin beds
Located close to the Acuatic park
Luggage rack
Magnifying mirror
Minibar (restocked daily)
Pool views
Reading lamps
Remote control for TV
Room's service
Rooms cleaned daily
Safety deposit box
Satellite LCD TV
Sea views
Toys gift for kids
TV-minibar table
Welcome gift for adults (Bottle of Rum)
Welcome gift for children's

×

---

Dining conditions

A variety of atmospheres and culinary options.
Opening and closing times may be subject to change (prior notice given).
Booking in advance and dress code required for dinners at specialized restaurants.
All Inclusive Premium: full board.
Unlimited alcoholic and non-alcoholic beverages.
Choice of cocktails.
Snacks during the whole day.
Diet and vegetarian dishes (on request).
Live entertainment at some restaurants.
Continental breakfast and tea time service.
Room service. from 11:00 to 23:00 h.

Services and Facilities

($) Services with additional charge