Iberostar Daiquirí Hotel

★

★

★

★

★
Cayo Guillermo, Jardines del Rey, Morón, Ciego de Ávila, Cuba. Postal Code: 69 410. Tel.: (+53 33) 30 1650 / (+53 33) 30 1645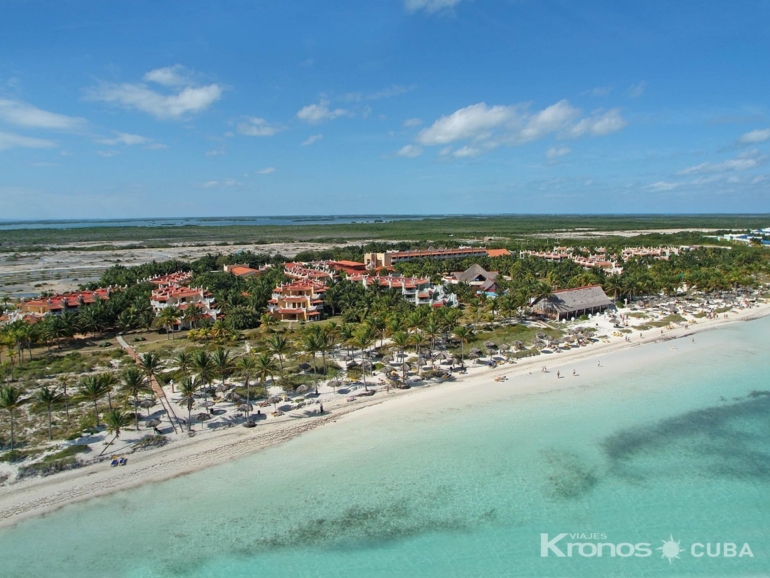 The Iberostar Daiquirí Hotel is located on Cayo Guillermo, one of the islets north of eastern Ciego de Avila province , part of Jardines del Rey Archipielago. The hotel boasts a privileged location on the unspoiled sandy beach.
Hours and Conditions
Check in

15:00 Hrs

Check out

12:00 Hrs

Conditions

We want to officially inform you that we will carry out maintenance work to change the floor around the pool, it will be done in sections so that it does not affect the service we offer our clients. We have two separate pools and one will always be available. The works will start from the 10 of June until the 24 of July of 2017.
Doble Beach

65 m2

1 room

(View room facilities)

Doble Vista Mar

65 m2

1 room

(View room facilities)

Familiar 2 Rooms

65 m2

1 room

(View room facilities)

SUPERIOR Standard Room

33 m2

312 rooms

(View room facilities)

1 Two-seater sofa
Air Conditioning
Bathroom's amenities
Balcony or Terrace
Bathroom with bath/shower
Bedroom
Bedside tables
Connecting rooms
Crib (on request)
Direct phone line
Dressing table
Dressing table chair
Voltage(current):220 V/60 Hz
Facilities for disabled guests
Furnishings in the Balcony
Furnishings in the Terrace
Garden views
Hairdryer
King-size or twin beds
Luggage rack
Minibar
Non-smoking rooms
Pool views
Reading lamps
Remote control for TV
Renovated room's
Rooms cleaned daily
Safety deposit box $
Satellite LCD TV
Telephone
TV-minibar table

×

Doble Room

33 m2 (View room facilities)

1 Two-seater sofa
Air Conditioning
Bathroom's amenities
Balcony or Terrace
Bathroom with bath/shower
Bedroom
Bedside tables
Connecting rooms
Crib (on request)
Direct phone line
Dressing table
Dressing table chair
Voltage(current):220 V/60 Hz
Furnishings in the Balcony
Furnishings in the Terrace
Hairdryer
King-size or twin beds
Luggage rack
Minibar
Non-smoking rooms
Reading lamps
Remote control for TV
Rooms cleaned daily
Safety deposit box $
Satellite TV
Sea views
Telephone
TV-minibar table

×

SEA VIEW SUPERIOR Room

33 m2 (View room facilities)

1 Two-seater sofa
Air Conditioning
Bathroom's amenities
Balcony or Terrace
Bathroom with bath/shower
Bedroom
Bedside tables
Connecting rooms
Crib (on request)
Direct phone line
Dressing table
Dressing table chair
Voltage(current):220 V/60 Hz
Furnishings in the Balcony
Furnishings in the Terrace
Hairdryer
King-size or twin beds
Luggage rack
Minibar
Non-smoking rooms
Reading lamps
Remote control for TV
Renovated room's
Rooms cleaned daily
Safety deposit box $
Satellite LCD TV
Sea views
Telephone
TV-minibar table

×

---

Dining conditions

A variety of atmospheres and culinary options.
Opening and closing times may be subject to change (prior notice given).
Booking in advance and dress code required for dinners at specialized restaurants.
Unlimited alcoholic and non-alcoholic beverages.
Choice of cocktails.
Snacks during the whole day.
Diet and vegetarian dishes (on request).
Live entertainment at some restaurants.
Continental breakfast and tea time service.
Men must wear dress shorts or long pants for buffet dinner and long pants for the Mexican a la carte restaurant.
The hotel has set a limit on the number of dining visits per stay for all of the a la carte restaurants (once a week to each restaurant).
The above limitations apply to a la carte dinner only and all guests may dine at the buffet restaurant as many times as they wish.

Services and Facilities

($) Services with additional charge